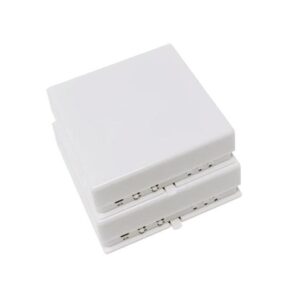 The SquareGlow™ Receiver flashes with 7 customizable LED colors when you have an incoming signal from any SquareGlow™ accessory such as the doorbell, phone transmitter, or sensor. It flashes when it is triggered.
Features:
7 Customizable LED light colors: White, Green, Red, Yellow, Blue, Teal, and Purple
Wireless range of up to 600 feet
Unlimited # unit pairing technology
52 Ringtones
Multiple volume levels, up to 120 dB
(3) AA alkaline batteries required (not included)
One-year warranty
Includes:
One wireless flasher
7 customizable color flashers (Use different colors to identify
where each signal came from)
*Needs three AA batteries (not included) *Compatible with all SquareGlow™ products/accessories.