Maple's Pre-Recorded Video Message service allows any already-existing document, audio, presentation, or other spoken or written-language media to be converted into a pre-recorded Sign-language video that can be played for or distributed to Deaf individuals.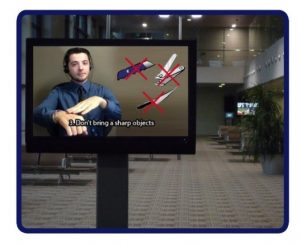 How does the service work?
Maple's team receives a video, document, audio file, script, etc., and then prepares a version of the information at hand for interpretation into Sign Language.
A Maple interpreter familiarizes him/herself with the information to be interpreted. A film crew then films the interpreter as he/she interprets the spoken or written words which are to be interpreted.
What can this service be used for?
Any sort of video, document, audio recording, script, brochure, medical information, etc., which is prepared ahead of time and used in any meeting, consultation, or other context, can be transferred into a Pre-Recorded Sign-Language Video Message format.
This allows Maple's clients to make Sign-Language versions of all important documents and presentations available to Deaf individuals who might otherwise have difficulty understanding spoken or written language.
How are these messages played?
These messages are available in various file formats, enabling them to be played on websites, CD & DVD players, laptops, YouTube, and various other technology platforms.