Maple offers Sensitivity Awareness classes to help participants to accurately identify and properly respond to communication barriers. Our trainers have extensive backgrounds and experiences with Deaf awareness and are able to assist with the integration of Deaf and Hearing in the workplace. Our classes and workshops afford any industry with a valuable understanding of the Deaf, hard-of-hearing, and non-English speaking individuals, which provides a competitive edge on communication capabilities and an introduction to a new customer demographic.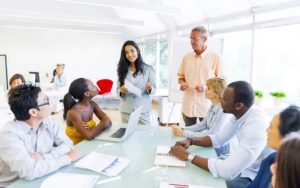 Several topics covered are:
Understanding Hearing Loss
Communication in the Workplace
Integration Strategies
Accommodations for Deaf and Hard-of-Hearing clients and/or employees
Canadian Human Rights Act; Duty to accommodate
Real-life scenarios and situations
Technology Training
We also offer hands-on workshops that familiarize clients with our devices and better prepare them with the technological understanding of our equipment:
How and when to request access services (such as a sign language interpreter, VRI, CART, and/or other services)
How to use interpretation devices effectively
How to support diversity and inclusion
Use Maple's workshops to help bring your organization into compliance with Federal and Provincial Accessibility requirements. Each workshop charges a per individual fee and includes a 3-4 hour training session. Fees can be negotiated for larger groups, shorter training sessions, and in-person or remote instructor presence.