Foreign Language Interpretation
Maple provides spoken-language interpretation service in over 240 languages, 24/7/365, with qualified interpreters through an easy-to-use application.
Maple will provide service introduction and interpreter awareness training sessions upon contract initiation, as well as a Service Starter Kit, which includes:
How to Access an Interpreter Guide with FAQs
Quick Reference Cards
Point to Your Language Posters
Maple Language Lists
Ongoing training is available as desired
Accessing an Over-the-Phone Interpreter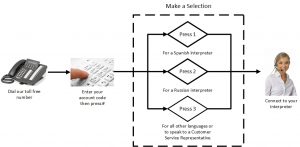 Maple's phone operations are versatile and flexible enabling us to provide an arrangement that is tailored to suit your organization's need. At contract initiation, Maple will coordinate with your organization to configure the account to reflect your needs. Our Client Relations Department will issue your organization a toll-free number and account code and configure our interactive voice response (IVR) system to connect your organization with appropriately qualified interpreters. If desired, we are able to collect numeric identifiers such as department ID or employee ID, which will appear on your invoices and usage reports. Accessing an interpreter over-the-phone through our IVR system may look like this:
Our IVR system is integrated with our client and interpreter databases. Each time your organization dials in, the call is automatically paired with your client record and interpreter requirements. Each client record is developed in our system according to the individual client's data collection and service requirements. Each interpreter record is highly detailed to ensure we pair the client with an interpreter who meets their specific requirements. Through skills-based routing, Maple can quickly and reliably locate and engage interpreters who have the qualifications to service your organization.
A partnership with Maple gives each client access to our people and our technology. Clients are connected to our IVR system in three (3) seconds and to a live operator in 12 seconds, on average.